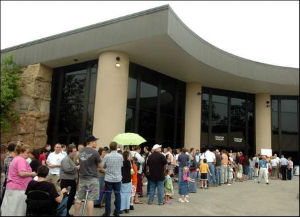 I posted the following comment on a story published by Religion News.On any given day, busloads of people from across the country arrive at the museum in Boone County. They come to see a biblical version of the origins of life, man and Earth.
Religion News thank you for this story.

I discovered the false teaching of those in the evolution camp a few years ago. It is disheartening to see the propagation of the faulty evolutionary hypothesis in North American museums and school and university classrooms. As an educator I have observed the longing for truth that many young people desire. Teaching evolution only brings despair, a loss of hope and a hardening of hearts towards God and his love for us.

My visit to the Creation Museum in 2008 was a very positive spiritually uplifting experience. The exhibits, writings and staff are top notch. It is well worth the drive to the Creation Museum and a subscription to "Answers" the Answers in Genesis magazine.
News Story "Three years on, Creation Museum is evolving" 2010.
PETERSBURG, Ky. (RNS) September 3, 2010
Ken Ham, the Australian-born creator of the Creation Museum, looks around the throng of about a thousand guests on a hot, August morning and notes that "for a Tuesday, this is not a bad crowd."
In fact, more than three years after it opened in this remote corner of Kentucky, the 70,000-square-foot "walk through the Bible," consisting of animatronic displays, video features, theaters and restaurants has evolved into a thriving enterprise. "We have consistently surpassed our own forecasts for attendance," said Mark Looy, a co-founder of the museum and spokesman for the center.
Last month (August), the Creation Museum counted more than 1.2 million guests since it opened in 2007, he added. While Ham and Looy expected attendance to be high for the first year because of the curiosity factor—there were about 500,000 guests in the museum's first year—no one predicted the continuing growth in attendance.
Read the full story at ReligionNews.com…