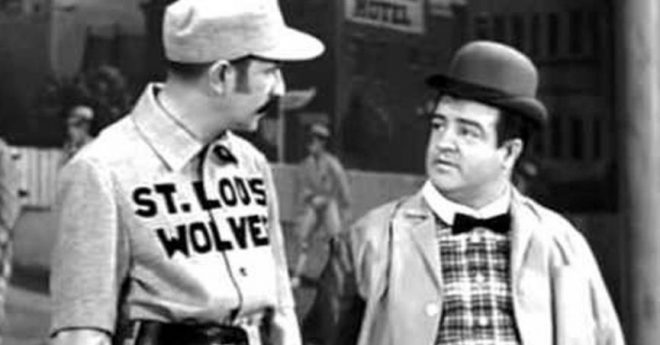 "Who's on First?" is a vaudeville comedy routine made most famous by comedy team Bud Abbott (1895-1974) and Lou Costello (1906-1959). The skit became famous on live radio and was eventually presented for television on "The Abbott and Costello Show" an American television sitcom that premiered in syndication in December 1952 and ran until May 1954. The duo made 36 films between 1940 and 1956, and were among the most popular and highest-paid entertainers in the world during World War II.
Comedian Jerry Seinfeld declared that The Abbott and Costello Show,  with its overriding emphasis upon funny situations rather than life lessons, was the inspiration for his own long-running sitcom, Seinfeld.
The comedy routine "Who's on First" has Abbott identifying the players on a baseball team to Costello. However, their names and nicknames can be interpreted as non-responsive answers to Costello's questions.  The script will help you follow along. This video version is taken from "The Abbott and Costello Show".