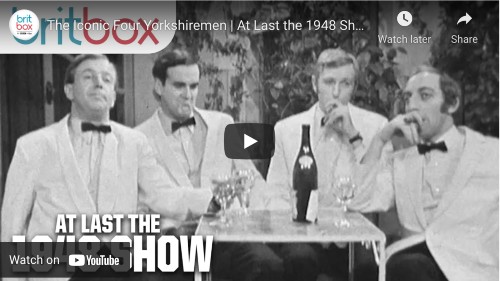 The "Four Yorkshiremen" sketch is a parody of nostalgic conversations about humble beginnings or difficult childhoods. Four Yorkshiremen reminisce about their upbringing, and as the conversation progresses, they try to outdo one another. Their accounts of deprived childhoods become increasingly absurd. (Wikipedia.org)
The first video is the version many are familiar with from Monty Python. From left to right the actors are Michael Palin, Graham Chapman, Terry Jones and Eric Idle. You may follow along with the script.
The "Four Yorkshiremen" sketch was originally written and performed for the 1967 British television comedy series "At Last the 1948 Show" by the show's four writer-performers: Tim Brooke-Taylor, John Cleese, Graham Chapman and Marty Feldman.
This third version of the Four Yorkshiremen is from Alan Rickman and friends. From left to right, Henry Enfield, Alan Rickman, Eddie Izzard and Vic Reeves perform the Monty Python Sketch for "We Know Where You Live 2001".
To provide your comments and feedback on this article, please contact David Spencer.